I considered allowing picture uploading on this site directly for the forums, but for a forum like this where I'm paying out of my own pocket for the bandwidth it is something that could get out of hand very quickly. For those of you that may not know, most webhosts limit the amount of bandwidth (data transfer) every month. Go above the limit and you pay more. I have an excellent hosting package right now so I see no problem with my existing bandwidth and I don't foresee problems with increases as the forum grows, but by allowing picture hosting here it would drastically increase the bandwidth usage and probably cost me a lot more money very soon.
So with that "disclaimer" out of the way, lol...

To post a picture on these forums the picture first has to be uploaded onto the web somewhere. There are a LOT of places on the web that offer this free service - Flickr, Picasa, and Photo Bucket just to name a few.
There are some places on the net which provide photo hosting but do not allow "off-site linking" which means you cannot host pictures on their site and post it somewhere else. If you get that annoying red "X" or an ad in place of the picture, this is the case and you need to find a better host (see sources above).
So choose a place to host the pic, setup an account, and upload the picture you want to post.
With the pic uploaded right click your mouse on the image and select "Properties" at the bottom of the menu that appears.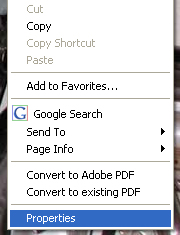 This opens a new window named "Properties". Left click and drag your mouse over the "Address (URL):" section to highlight the link text and then right click that highlighted text to bring up the "copy" menu. Select "copy".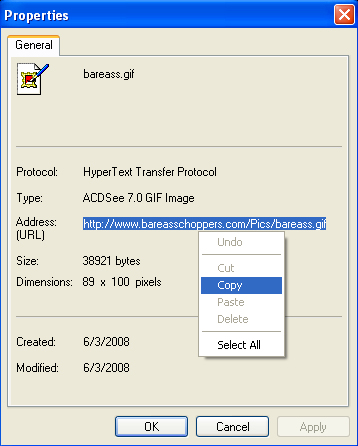 Now come back here to the post you want the pic in and start your post/reply. In the header above the text box you should see this menu:

Click the "Img" button and you will see the letters "img" and "/img" appear inside of brackets. Right click in the text box where you're composing your post and select "Paste".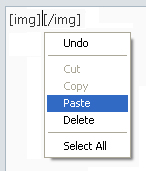 You should now see the pictures address which you copied from the properties box inside of these "image tags" (img brackets) and when you post the message (or preview it) the picture should appear as intended in the message.