There are a lot of different ways to embed video content in websites, but the software that runs these forums doesn't allow for most of those formats to work. It's part security and part content control (hey, I don't write the code!)

To remedy this I've added a "YouTube" button to the posting interface. First you need to get the link you want to embed from YouTube, so find the video and underneath it look for the "Share" tab. At the time I'm posting this it is sandwiched between the "About" tab and the "Add to" tab under the video. When you click on the "Share" tab it shows a link to the video highlighted inside of a box which will look something like this:
http://www.youtube.com/watch?v=C-RnMB67Pbs
That's what we need, so while it's selected you want to right click on it and choose "copy".
Now that we have the video link copied come here and start your post. Type whatever you have to say and then find the spot in your post where you want the YouTube video to show. Click the "YouTube" button at the top of the posting interface. It's on the far right, immediately next to the "Font colour" button. When you click the button you will see the letters "YouTube" and "/YouTube" appear inside of brackets. You want to right click between those middle brackets and choose "paste". We do the same thing for posting images, so it's like this but the brackets say "YouTube" instead of "img".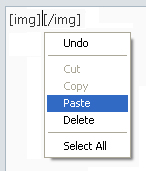 You should now see the YouTube video address inside of these brackets and when you post the message (or preview it) the YouTube video should appear embedded in your message.