This is a bit of info I compiled when trying to find direct replacement parts for the VTX 1800 internal fuel pump assembly. This pertains to VTX 1800's from '02-'04 and a handful of '05's. If you have an 1800 with a flange on the gas tank then you have this internal pump assembly.
Recently I had a friend with a pump failure so I began digging into the replacement options. I learned that Honda will sell you every single part of the pump assembly individually
EXCEPT THE PUMP
. So if you have a pump failure and want an OEM replacement then you need to buy the entire assembly from Honda - it is Honda #16700-MCH-023 but it costs over $300! You can also dig around Ebay for used pumps, but this may or may not be an option for everyone...
So I began researching replacement pumps and filters through normal suppliers. Now if you're pretty handy as a mechanic then this should be an easy project for you, run to the auto store, buy a new pump and filter and rewire/replumb the connections. This is a VERY common style of pump so finding a similar match should be easy, you just need to be sure it pumps 50-60 PSI and plugs into the nylon pickup screen. I dug deeper into this because I wanted to find a replacement that was easier for most people to do, something that was plug and play rather than something that would require rewiring. What I learned was that the OEM pump is a Denso #195130-6550. No one anywhere could cross-reference this number so I called Denso directly and learned that this is a Honda specific pump, Denso is under contract to make this pump and ONLY sell it to Honda. Denso did volunteer Honda's internal part number for the pump though, #16710-MCJ-0032, but no Honda dealer or parts house that I spoke with could find this number, so it must be an internal Honda number only.
So I gave up on finding an exact match using the OEM or Denso numbers. After digging through hundreds of pumps I found an Airtex model that is close enough for my tastes. It is an
Airtex #E8271
, it is identical to the OEM pump but it's about 3/8"-1/2" longer which is still close enough to work in the pump housing. It is an exact match for the Honda pump barring the small difference in length - the wires and pickup screen plug in the same on both ends. This pump is about $140 through most of the local suppliers I checked and can be found online for a few bucks less.
So now I have a pump that will work, I wanted to replace the filter while I'm doing this. Again, I could go to Honda and pay more than $45 for the filter, OEM #16900-MCH-003, but this seems ridiculous. I dug deep, I spent literally hours digging through books at Napa, AutoZone, Car Quest, Pep Boys, Advanced Auto and O'Reilly's, but I never found a single filter to match the dimensions of the OEM (or even be close). The only real requirements of the fuel filter is to handle the pressure of the pump (50-60 PSI) which is what most of these filters are now designed to handle, and have 5/16" hose barb ends to fit the OEM fuel lines. It also makes sense that the bigger the filter you can fit, the more filtration you can get out of it. The best solution I could find came from a post by a "Bubba 1800" on the VTXOA, he used a
Fram #G3606
.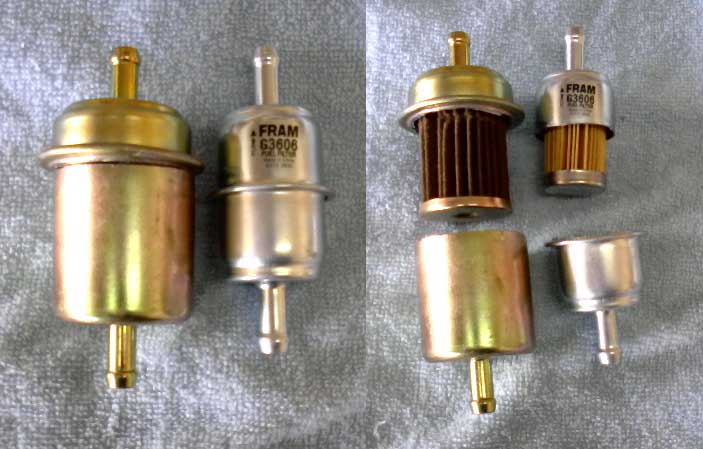 While most any filter that will fit will work, this one is large enough that the pinch flange on the filter will actually secure into the pump assembly filter clamp.
So, if you're in a bind and need to replace your pump and filter these are 2 options that should work well:
Pump - Airtex #E8271
Filter - Fram #G3606
The only other thing worth mentioning is that you'll need a foot of fuel line to replace the OEM lines. With the different sized pump and filter you'll be best to cut new lines and be certain the lengths fit properly. This is really a good idea anyway, you're in here replacing everything else so spend the buck on new lines also.

As always, I hope this info helps - any questions or additional info to add just post it here.